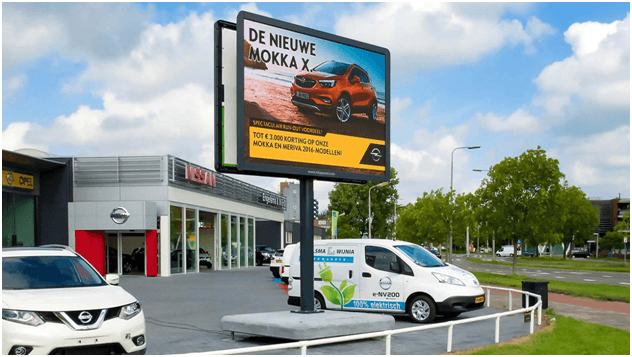 Today, concerts, entertainments spots, social clubs, and advertisers are using outdoor LED display. For that reason, several manufacturers have ventured into outdoor LED screen making to reap from the lucrative booming industry. Unfortunately, not all outdoor LED screen made are of high quality or a suitable specification. Added considerations are needed when choosing LED display screen. Below are various factors to consider when selecting an outdoor LED display for use
Determine The Suitable LED Display Screen Size
When determining the suitable size of outdoor TV screens, consider the location of the installation. As expected you want to avoid situations where viewers have to strain to view the imagery on screen. For this reason, knowing the location allows you to have a rough estimate of the minimum and maximum viewing distance of the viewers. In turn, the range will enable you to have a general average of the height and the length of the desired screen hence making it suitable for viewers who are either closer or farther away.
Determine The LED Display Screen Video Processing Type
Next, consider the processing type of the large outdoor TV screens you want to invest in. Ideally, the video processing type is usually dictated by the kind of content you want to display. For the LED display screen to effectively support live streaming, dedicated external processing equipment will be needed. Likewise, if your focus will only be in prerecorded content, then no supporting equipment will be required. As expected, the type of content played has a significant effect on the operating cost of the display and overall cost of the screen.
A Reliable Power Supply Source To Power The LED Display Screen
You cannot afford to have a power blackout while using an outdoor display screen. When considering what type of display to invest in, take a moment and focus on the outdoor conditions during various seasons. Additionally, consider the power consumptions and power supply sources when investing. Usually, to avoid power failure due to fluctuations, investing in high-quality voltage stabilizer is recommended.
Thermal Management Capability Of The LED Display Screen
LED screens that preceded the current technology usually headed pretty fast when powered up for long. Though a significant improvement has been made in this display sector, thermal management is still a major factor to keep in mind when choosing a led display board. Factor in external temperatures and how it affects the internal temperature. Also, consider the thermal management system and how effective the LED display is in regulation temperature during extended operating hours.
Warranty And After Sales Support Of The LED Display Screen
Finally, when choosing which kind of led display board you want to invest in, consider the manufacturing company. Usually, a high quality LED display screen has a longer warranty package than a substandard quality. Additionally, consider the after sales support provided with the display. A company that cares for its customers and offers high-quality products will give satisfactory after-sale services and warranty.
As the audience is the driving factor when choosing an outdoor LED display, consider the desired end image before making a purchase. Taking a keen interest in the above factors will allow you to choose the most suitable LED display screen to invest in. Overall, consider the cost of the display on offer as most of the time dirt cheap displays usually indicate low resolutions and imagery.