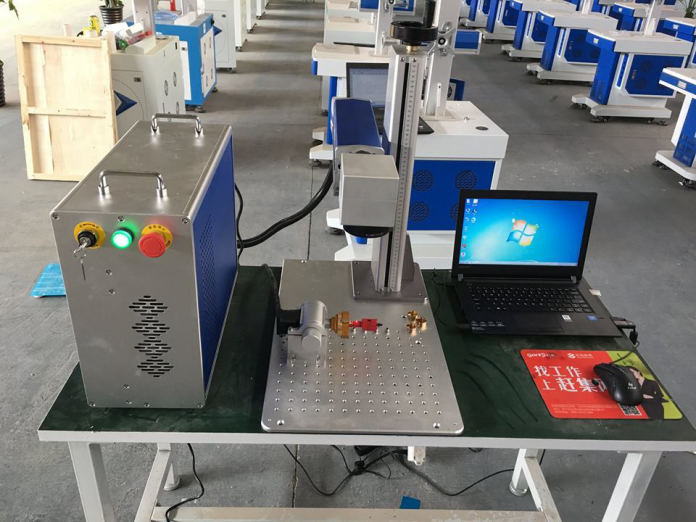 The use of laser marking has allowed technological advancement in the engraving of jewelry, garments, office devices, sanitary ware, and many others. With the ability to produce precise and clean engravings, the mopa fiber laser marking machine is viewed as the most effective. However, as a relatively new engraving method when compared to traditional laser marking, a lot of elements on the MOPA laser marking machine are still unknown. Below are key features of the MOPA laser marking machine that you should know of.
MOPA Laser Marking Machine Offers Low Maintenance
One of the main highlights that should draw you to a MOPA laser marking machine is the service time that it produces. The technology of the laser source is made to provide up to 100,000 hours without any need for maintenance. The extended service life translates to use for up to 8 to 10 years without need of any replacement of the parts. This aspect further reduces the already low MOPA fiber laser price making it a cheap investment in the long run.
MOPA Laser Marking Machine Low Cost Of Maintenance
Going hand in hand with the low maintenance is the low cost of maintenance advantage that you get. An air cooling system is incorporated in the laser source that controls the heating feature of the laser. This translates to direct lower consumption of power that drastically reduces the cost of operation and energy consumption. What's more, as the MOPA fiber laser features aren't susceptible to constant breakdowns, the consumables needs in terms of spare parts remain low hence saving you money.
MOPA Laser Marking Machine Allows For Versatile Use
As an investor, you want to purchase something that does more than one job. Investment in a MOPA laser color gives you just that. With a workable up and down feature, you need not wait to mark various pieces. An automated system can be set up that routinely switch and engrave different workpieces within a short period. This feature allows for mass laser marking production within a short period.
MOPA Laser Marking Machine Offers Top Notch Efficiency
The efficiency of a laser machine, especially the MOPA laser source is measured by the photoelectric conversion efficiency of a device. MOPA laser manufacturers assure of efficient use by having more than a 30% optic- electrical conversion rate. As expected, this allows precision and neat engravings on various elements at lower power consumption.
MOPA Laser Marking Machine Works At High Speed
When dealing with small features such as USB sticks, data plates, and other small sized items, the engraving period reduces. This aspect is made possible with the use of a high-speed galvo scanner machine that takes only a few seconds. Ideally, as precision is required to mark at the specific areas, the galvo scanners aim to stabilize the beam and hence enhance performance. With a top-notch scanning system, you are assured of accuracy and consistent even when using a portable laser marking machine for both small and large items.
MOPA Laser Marking Machine Has A Red Light Preview Feature
When dealing with delicate elements such as diamond, having a guiding light that measures the focal length is imperative. To further enhance accuracy during marking, the color laser engraving machine has a red light preview feature. The red preview allows you to do this by producing two dots that will enable you to adjust the length to the desired height. Once the two lights coincide, you can mark without worry of making a mistake.
MOPA Laser Marking Machine Is Compatible With Other Software's
To ensure versatile use regardless of what system you have, the MOPA fiber laser marking machine does not take into account the software used. Various software output features such as the Auto CAS, Photoshop, and CorelDraw, etc. are compatible with the machine. The compatibility allows simple operation feature like the automation and correction of various signs, graphs, characters, images, and barcode. For these reasons, you do not need to acquire any programming language to understand or use this laser marking machine.
MOPA Laser Marking Machine Delivers With Precision
With small products, marking with a conventional laser might be difficult. However, with MOPA laser settings, this aspect isn't a hindrance. Unlike a diode that can only reach the 0.01mm mark feature; a laser fiber can reach and mark the precision of up to 0.001 mm. This ability allows you to mark small or thin products such as electric cables.
MOPA Laser Marking Machine Provides Ease Of Use
When making the same markings in products, going back to the computer to countercheck and start can be very tiring. As the settings remains the same, and the precision is spot on this step is considered redundant. A foot switch is incorporated in the machine to aid you in skipping this. When dealing with the same kind of project, you only have to flick the switch to begin making the various products.
MOPA Laser Marking Machine Is Compact
Different industries have different needs hence need different sized laser making machines. Whether you want to make markings in the millimeters or centimeters, various sized devices allow you to do this. This means that you do not have to be restricted to marking of a particular size and hence can choose what best suits your needs.
Conclusion
As the MOPA fiber laser marking machine allows you to make full picture markings on various elements, engraving your brand logo on your product has been made so much easier. As it produces a full-color laser engraving, MOPA laser marking machine proves useful in various industries like cable companies, electric appliances, and jewelry and hardware tools. However, as there exist multiple kinds that cater to a specific need, some considerations need to be taken when choosing your ideal laser machine. Nonetheless, with so many benefits you cannot afford not investing in one for your business.