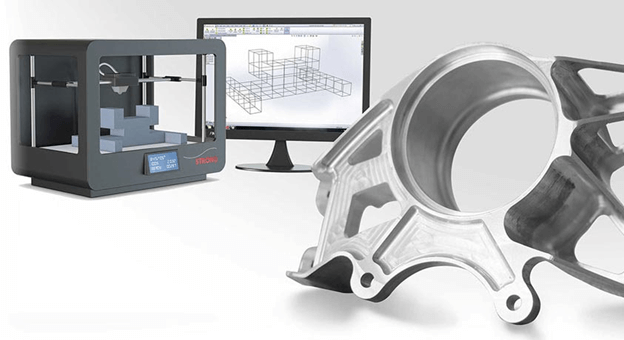 Computer Numerical Control (CNC) is a process by which machining tools such as lathes and drills can be controlled using computer inputs. Many industries rely on CNC machine-produced parts as prototypes. First, a 3D design is made using CAD software. A computer is used to translate the design into g-code, instructions that can be sent to the machine, which does the actual cutting.
The device can automatically cut the parts based on a preconfigured pattern fed into the computer at the design stage. CNC prototyping results in significant savings in cost, time, and labor. In essence, small pieces at a time are cut away from the solid block until the finished design is obtained. The more the number of axes a machine has, the more complex the cutting operations it is capable of handling. The main benefits of CNC machining are the versatility of finished parts, precision cutting, consistency of final designs, and the fact that a broad range of materials is compatible with the process, including aluminum, plastics, and steel. Which are the best machines for CNC prototyping?
The efficiency of CNC machining for prototyping
CNC machining enables the operator to obtain high quality, accurate, and durable prototypes, molds for injection, and piece parts. The reason CNC machining (as opposed to 3D printing) is still used for prototyping is that it offers speedy turnaround and extreme accuracy of prototype parts. Live tooling enables the machinist to add features such as radial holes, axial holes, grooves, and slots to the prototypes. CNC machining also allows one to build mid-volume molds that are injectable, out of steel or aluminum. It is also possible to incorporate vastly different geometric and artistic designs into any given prototype.
Speed of prototyping, high quality, and a wide variety of options of materials are some of the reasons why CNC machine prototyping is feasible.
CNC machine options
DIY CNC Router Kit – not designed for commercial purposes. Users should have a basic understanding of mechanics and design. It offers superbly precise cutting while being compact. It is easy to operate, although it might be hard for some users to put together. It also provides features robust construction while being excellent value for money. Pricing starts at $175.
MY SWEETY CNC Machine – this is a multipurpose GBRL milling and woodcarving machine. It can be explicitly used for engraving but also works with a wide range of materials. It is billed as beginner-friendly, is partly assembled, and can be controlled via different operating systems, e.g., Windows, Linux, and Mac. The motherboard is preprogrammed and is delivered as plug-and-play-ready. Pricing starts at $169.
CNC Piranha FX – it costs a bit less compared to full-scale machines but is still very powerful. It comes with a beautiful touch screen that you can interact with, removing the need for a computer. It is also bought fully assembled. Thus it is perfect for beginners. It has a steep learning curve but features 3D model libraries, a sleek, and compact design. Pricing starts at $1615.47 on Amazon.
Conclusion
CNC Machining enables rapid, efficient, and durable prototype parts that are of high quality and consistency across the board.