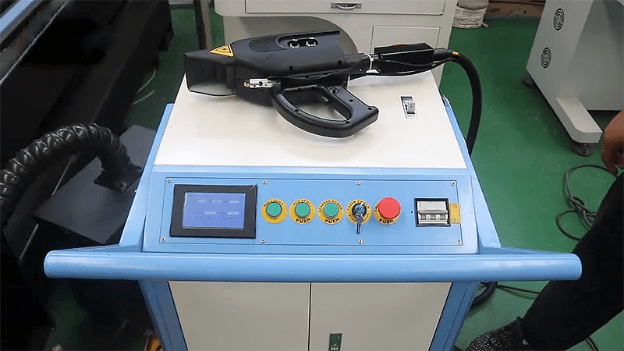 Laser cleaning equipment has taken the industry by storm. They present effective and safe technology for cleaning various types of surfaces. The High power laser cleaners are among such devices. They are effective for cleaning large areas and tough stains. In this article, we'll look at some of the 2 best high power laser cleaning equipment.
Vulcan 500c high power laser cleaner
This laser cleaner features a robust galvanometer, an ergonomic compact scan head. The Vulcan 500c combines fiber laser reliability, flexible operational parameters, and high pulse energy to deliver exceptional cleaning capabilities.
The hand-held galvanometer allows you to tilt the equipment's output angle to a maximum of 90°, making it easy to work on harsh geometries. This high power laser cleaner features simple synchronization and superb universal controls systems to offer fast processing and unlock the maximum potential for dirt, rust, and stain removal.
The Vulcan 500C doesn't come with an extraction; you can purchase it separately as an add-on. You also need to buy extraction solutions. This laser cleaner is perfect for coating removal, paint removal, surface activation, pre-weld preparation, oxidation removal, mold cleaning, etc.
The Cleantech LPC 2000CTH laser cleaner
This laser cleaner is effective for removing paint, corrosion, and other surface contaminants. Laser Photonics is the manufacturer of this device. It's a unique laser cleaner that meets the health and environmental regulations set for manufacturing areas. It's energy efficiency high-powered equipment that's useful in cleaning various surfaces.
The Cleantech LPC 2000CTH laser cleaner is suitable for industrial manufacturers with equipment that function under high-temperature environments. For example, it's useful in aircraft repair facilities, military shipbuilding facilities, combustion motors, jet engines, etc.
The equipment has proved helpful in replacing industrial cleaning processes such as wet chemical processes, sandblasting, and abrasive blasting. You can use the LPC 2000 CTH to clean surfaces made of stainless steel, copper, alloy metals, brass, anodized aluminum, mild steel, plaques, and nontransparent plastics.
According to the manufacturer, the LPC 2000 CTH is one of the fastest lasers cleaner in the market, and it doesn't affect the base material of the surface you're cleaning. It operates in varying modes to remove rust, charring, and paint at high speeds.
P-Laser's High Power systems
The P-Laser's High Power laser cleaners are modern cleaning equipment that uses high pulse power to cleaning larges surfaces. A 19″ control unit guides the laser. The device features integrated water cooling to cool its optical components.
The P-Laser high power systems come in several series and are available in a 1000W, 500W, 350W, or a 2000W laser source. Although their working power pulse is similar, the 500W offers a half amount of energy compared to the 1000W. The sample applies to the 1000W when compared to the 2000W.
Final Thoughts
The device is also fitted with an air treatment unit that prevents the accumulation of dust on the lens and cools down the optic. The mobile optic allows you to operate the laser I in any location. The P-Laser's High Power laser cleaner has an external vacuum system that enables you to suck any fumes or harmful dust. The mobile version is mounted on strong wheels making transportation of the equipment easier.