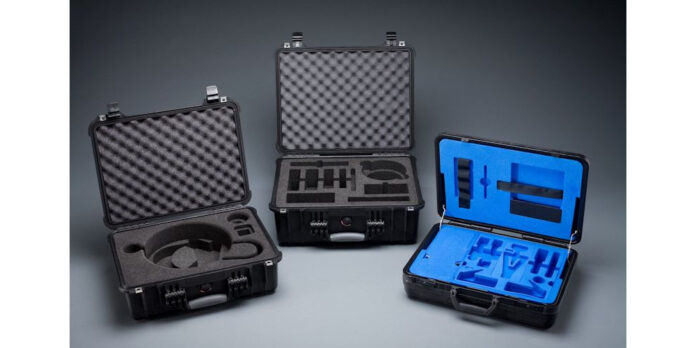 An EVA casing is a casing made from ethylene-Vinyl Acetate. Custom casings made from Ethylene-Vinyl Acetate are light sturdy and soft to the touch. EVA cases combine aesthetics, versatility, protection and durability into one; making it the perfect casing to hold any product. Custom EVA cases are used in different industries, including the military, medical and beauty industries. You can learn more about EVA custom casings and order your own from chimicase.com. Below we look at the integrated process that Chimi Case uses to manufacture custom EVA casings.
1. Custom case designing
The first step to getting a custom EVA case is presenting a design for the team at Chimi Case to use. If you do not have a complete plan, you do not need to worry about it, a team of qualified and experienced personnel works with you to come up with a design for your case. The initial design can be an actual sketch, prototype sample or CAD file.
The team at Chimi Case presents you with a finished 2D or 3D design in less than 24 hours. When making the design, the following factors are taken into consideration.
If the design matches brand identity and suites your target market
Is the design cost-efficient in production?
Do the materials used match the client's budget?
2. Fast tooling
The construction of Ethylene-Vinyl Acetate is faster and more efficient compared to plastics and metal. Chimi Case has a CNC manufacturing plant that makes production even faster. Chimi Case makes your model case in less than seven days. The process involves a lot of adjustment to ensure you get the best quality finished product.
3. In house prototyping
Chimi Case ensures that you receive a prototype to judge and decide if it is fit for mass production. If you approve the prototype, manufacturing starts immediately. If there are any issues with the prototype, the team at Chimi Case immediately begins working on a new prototype. This process can take five to seven days.
4. Streamlined manufacturing
Once production starts, you only have to kick back and focus on your core business. Chimi Case has highly equipped manufacturing plant that works round the clock to deliver nothing less than the best. The company has a well-run production process consisting of lamination, cutting in the first stages to stitching, thermoforming and trimming. The workshop is divided to ensure maximum output efficiency. Full manufacturing can take up to three weeks after which the client gets the perfectly finished product.
5. Keen inspection
In the interest of quality assurance, Chimi Case ensures that each EVA case goes through a strict inspection before packaging and delivery. Inspection checks for any flaws in the design of the end product. Tests are done to ensure the cases are up to the required standards. Chimi Case promises 100% hence there is no room for error.
6. Delivery
Once all the cases are completed, Chimi Case immediately arranges for delivery to be done as soon as possible. The company handles the logistics of the delivery unless the client decides otherwise. Just in time, delivery is the company's motto, which ensures the client gets their products on schedule.
Conclusion
Manufacturing custom casings has never been this easy. With companies like Chimi Case stepping in to make the process of custom machining seamless, clients get the best quality cases, at the lowest price and save time. If you are thinking of getting an EVA custom case, get in touch with Chimi Case for the best deals.